Every year, on the recommendation of the Scientific/Medical Advisory Committee (SMAC), the Board of Directors of PSC Partners Seeking a Cure chooses the most promising research projects to support.
Application information, complete instructions, and pertinent due dates are below.
If you would like to add your name to our mailing list to receiving future emails from PSC Partners, please click button.
Grant Application
PSC Partners and affiliate PSC Partners Canada offer grants to conduct research that addresses an important and novel, basic or clinical research question related to PSC and closely associated diseases (such as inflammatory bowel diseases (IBD) and cholangiocarcinoma). Our Research Grants Program seeks to encourage investigators to conduct research in promising new areas, with the goal that data generated will lead to federal (NIH) or external international funding.
Grant Amounts
Research grant funding is limited to $30,000 per year for two years ($60,000 total).
The Young Investigator Award totals $80,000 ($40,000 per year, paid over two years).
Focused proposals with smaller budget requests will also be considered.
Application Deadline
THE APPLICATION DEADLINE FOR 2022 GRANT SUBMISSIONS HAS PASSED. 
Soon, we will be accepting applications for our 2023 grant cycle. Deadlines for Letters of Intent and proposal submissions will be announced soon. Join the researcher mailing list to receive pertinent updates. (Click green button above to join the mailing list.)
Application Deadlines for 2022 Proposal Submissions
Proposal submission deadline: 07/18/2022 11:59 p.m. MT (10:59 p.m. PT / 12:59 a.m. CT / 1:59 a.m. ET / 7:59 a.m. CET)
Scientific/Medical Advisory Committee (SMAC) meeting: Sept. 2022 (Grants for the 2022 cycle have been chosen. A date for the 2023 meeting will be posted soon.)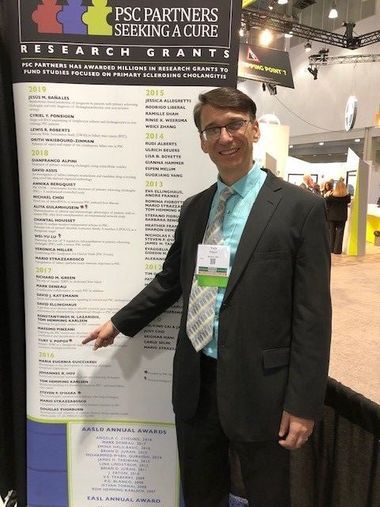 Research Topics of Interest
PSC Partners Seeking a Cure is particularly interested in funding research projects that:
Foster interdisciplinary collaborations and the sharing of resources as a means of accelerating progress in PSC research

If the proposal includes a specific plan for sharing of results (collaborations) and resources (such as DNA), this will result in a more favorable review.

Have the potential to discover a cure for PSC
Identify novel therapies that may significantly delay time to liver transplantation, prevent disease recurrence following liver transplantation, and/or improve the quality of life of those with PSC
Aim to identify the gene-environment interactions contributing to disease initiation and progression
Explore PSC-related diseases (IBD, UC, and Crohn's disease) in ways that they impact, enable, or, perhaps, cause PSC
Address PSC in children and adolescents
Address PSC-related fatigue
Will be complementary to the goals and objectives of the International PSC Study Group, including investigation of the functional roles of genes associated with susceptibility to and severity of PSC
Address the mechanisms of PSC pathogenesis and colorectal and cholangiocarcinoma carcinogenesis, as well as strategies for prevention
PSC Partners recognizes that studies with animal models may be appropriate to address these fundamental questions. Proposals that have little relevance to PSC will not be considered for funding.
Application Instructions
No special application forms are needed.
The applicant must be at an academic institution with an interest in pursuing PSC as an indication for treatment.
Funding will be issued from either PSC Partners (U.S.) or our affiliate PSC Partners Canada.
During the grant proposal review process, recipients may be selected to receive a U.S. or Canadian grant.
Special eligibility requirements apply for grants from PSC Partners Canada. Please note that your institution's eligibility to receive a grant from PSC Partners Canada does not affect the selection process for research grants awarded by PSC Partners (U.S.). Even if your institution is not on the list below of eligible Canadian institutions, you may still qualify to receive a grant from PSC Partners (U.S.). If your institution is not Canadian, please confirm if your affiliated institution is on this list, and that disbursement of a research award can be delivered to you through this institution. Please email our Canadian affiliate for any questions: contactus@pscpartners.ca.
Incomplete applications will not be considered.
One copy of each full application must be submitted electronically, in English, and in .pdf (portable document format) to: contactus@pscpartners.org.
The following instructions should be followed:
1. Face Sheet: Please include the title of the research project, the name and title of the principal investigator (PI), the PI's mailing and email addresses, and the names, titles, and e-mail address(es) of any co-PIs.
2. Budget: The Scientific/Medical Advisory Committee may exercise discretion in the approval of the expenditure of funds, but, since these are small research grants, they are primarily intended to support the purchase of consumable research supplies (e.g. glassware, chemicals, enzymes, etc.) to conduct PSC research. Salary support for principal investigators is not allowed, except in the case of Young Investigator Awards. Salary support for technicians is allowed. Up to 25% salary support is permitted for Young Investigator PIs only. Indirect costs (overhead) are not allowed.
3. Budget Justification: Items to be purchased and salary support should be briefly explained and justified.
4. Project Description: This segment of the proposal should be no longer than eight pages. Please use the following format:
Project Summary – Approximately 250 words
Specific Aims
Background and Significance
Preliminary Data (optional)
Research Plan (include materials and methods, collaborative arrangements, interpretation of data, anticipated results, potential problems, and alternative approaches)
A brief summary,1-2 paragraphs in length, describing the project submitted, written in layman's terms to be posted on the PSC Partners' website, if your projected is funded
5. Bibliography (Literature Cited)
6. Facilities and Equipment
7. Institutional Review Board: If the study includes human subjects, proof of approval by the applicant's Institutional Review Board (IRB) must be included, as well as a copy of the approved consent form. Grant applications will be accepted for review, if the applicant's Institutional Review Board document is still pending approval. However, funding would be contingent upon submission of the final approved IRB document.
8. Biographical Sketch of the Applicant (PI): Submit your bio sketch according to the NIH format.
9. List of Current and Pending Support
PSC Partners Seeking a Cure will send confirmation by email to the principal investigator upon receipt of each individual application.
Please note that this confirmation process is not automated. Please email us at contactus@pscpartners.org if a confirmation email is not received within 48 hours, and we will verify the status of the application.
Young Investigator Award
PSC Partners Seeking a Cure is delighted to offer a Young Investigator Award to promising researchers who are at the early stages of their research career and are interested in clinical, translational, or basic research that will improve our understanding of PSC, with the ultimate goal of translating basic and clinical research findings to improved PSC treatment options and outcomes. 
The goal of a Young Investigator Award category is to foster and support the development of future PSC thought leaders and researchers. Please contact the PSC Partners Medical Science Liaison, joanne@pscpartners.org, with any questions.
The Young Investigator Award is a research grant in the amount of $80,000 ($40,000 per year, paid over two years). In addition to the Application Instructions for standard PSC Partners research grants as described above, the following requirements apply to the Young Investigator Award:
Only one primary investigator is permitted for each application. Collaborators or consultants are permitted but cannot receive salary support.
The primary investigator must have completed an advanced degree prior to the start of the grant period. Include CV documenting training history.
The primary investigator must be affiliated with an academic institution.
The primary investigator must be in training or within five years of their last training position or degree (e.g., MD, PhD), etc. Examples of training positions include residency, fellowship, post-doctoral fellowship.
Researchers from all disciplines are encouraged to apply, including, but not limited to, gastroenterology, hepatology, immunology, psychology, nutrition, rare diseases.
A 25% research effort is required. Up to 25% salary support is permitted for primary investigators.
Submission of a letter from the primary investigator's Department Chair, documenting the primary investigator's responsibilities at the institution, institutional commitment to the primary investigator, including 25% protected time for research, and future plans for the applicant.
Identification of the primary mentor and additional mentors who will provide support and guidance for the primary investigator throughout the research process.

Submission of a letter of support from the primary mentor, including a mentoring plan specifying any planned course work and professional development.
Submission of biosketches from the primary mentor and additional mentors who will provide support and guidance for the primary investigator throughout the research process. Biosketches should conform to NIH formatting guidelines, and should also identify all of the mentors' trainees in the past 10 years and their current job positions.

Researchers who have received an NIH R01 Grant, VA Merit Award, or equivalent funding are not eligible for the Young Investigator Award. Researchers who have received a K Grant may apply, and the funding can be used concurrently with a NIH K or other Career Development Award. In order to receive the second year of funding, grant awardees must submit their first-year progress report, including any changes in the primary investigator's academic position at their institution, mentor, or change of institutions from the time of application.
The grant cannot apply to Postdoctoral research, only faculty research. However, if a postdoc who is pending a faculty appointment wants to apply, it is allowed provided:

Their department (not division) head includes in a support letter that the postdoc will be promoted to faculty by the time of the award.
Their department (not division) head explicitly states what institutional support, including salary and duration of salary support, space and laboratory costs will be provided to the faculty member. 
No funds will be awarded until the faculty appointment is completed.

Applicants should include an NIH-format "other support" in their biosketch, as well as update other support annually.
In addition to the written progress reports described below, awardees are required to present a mid-term and final online oral presentation to the PSC Partners community and SMAC members regarding the impact, preliminary outcomes, and career development relevant to their work.
Opportunity to participate in SMAC may follow grant completion.
All proposals must be submitted to contactus@pscpartners.org by 07/18/2022.
Application Review
All grant applications will be reviewed by members of the PSC Partners Seeking a Cure Scientific/Medical Advisory Committee. Ad hoc reviewers will be used when appropriate. Renewal applications will be judged in competition with other applications. The following points will be taken into consideration when the proposals are reviewed:
·      Is the proposed research relevant to the research mission of PSC Partners Seeking a Cure?
·      Does the proposal have scientific merit?
·      Are the hypotheses to be tested based on sound, logical principles, and are the specific aims delineated in the proposal adequate to test the hypotheses?
·      Are the methods appropriate?
·      Is the approach innovative?
·      Will the proposal serve as a foundation to establish a novel line of research that will be competitive for NIH, NSF, VA, or other external funding?
·      Does the proposed research have a high probability of success?
·      Is the applicant qualified to carry out the proposed study, and are the facilities adequate?
·      Is the proposal clear and concise? Has the appropriate literature been consulted and cited? Does the proposal give attention to detail?
·      Does the proposal contain a specific plan for sharing of results and resources (e.g. DNA), and does it entail inter-disciplinary collaboration?
·      Is the budget appropriate and adequately justified?
·      Will the proposal impact PSC patient treatment in the short-term?
·      What are the overall strengths and weaknesses of the proposal?
·      Notification of funding (or lack thereof) will be made approximately three months after the proposal submission deadline.
Progress Reports
Awardees will be expected to provide a one-two page annual summary of results obtained with funds provided by PSC Partners Seeking a Cure.
This report should include a list of publications and abstracts presented at scientific meetings.
In addition to the written progress reports described above, a mid-term and final oral presentation to PSC Partners and SMAC regarding the impact, learnings, and any preliminary outcomes from the investigators work to the PSC community would be expected, e.g. webinar, interview, article, or poster presentation.
We require that all publications resulting from research funds provided by PSC Partners Seeking a Cure or PSC Partners Seeking a Cure Canada include an acknowledgement of this support.
Thank you for your interest in our Research Grants Program. Review awards we've made in the past by clicking here.
Complete your profile and join PSC Partners Seeking a Cure in advancing PSC research towards a cure. Find information about clinical trials.