REGISTER for 2022 Annual PSC Partners Conference
This Conference Will Be Held Virtually.
Click HERE to download the Conference Agenda.
Click HERE for a list of Conference Speakers and their Bios.
---
WE'RE EXCITED TO OFFER PRE-CONFERENCE WEBINARS! 
Visit the WEBINAR PAGE of our website for information and a link to register.
---
The PSC Partners Annual Conference will meet virtually this year, June 2-5, 2022, in collaboration with Dr. Josh Korzenik, Brigham and Women's Hospital, and Dr. Dan Pratt, Massachusetts General Hospital. We are excited to see you in attendance as we bring our community together for important conversations, exciting research updates, and renewed connection via our interactive, virtual platform.
Why is the conference virtual?
This was a painful decision for the PSC Partners Board of Directors and leadership. However, out of an abundance of caution and care for the health and safety of everyone in our PSC community, especially those who are immunocompromised, we decided to transition the Annual Conference to a virtual gathering in an effort to keep everyone safe and healthy during this challenging time.
What can you expect from the virtual PSC Partners Conference?
Selective and engaging presentations on PSC and current research presented by international experts on PSC and PSC-related diseases, co-hosted with Brigham and Women's and Mass General Hospital (Harvard University)
Opportunities to ask questions and have conversations with experts in small breakout sessions
Numerous chances to reconnect virtually with friends from the PSC community during fun social events, engaging peer-to-peer sessions, small group chats, and more.
CLICK HERE TO DOWNLOAD THE CONFERENCE AGENDA
---
THANK YOU TO ALL OF THE CORPORATE AND COMMUNITY SPONSORS WHO HAVE ALREADY COMMITTED THEIR CONFERENCE SUPPORT!
---
SPONSORSHIP OPPORTUNITIES
We rely on the support of sponsors. This year's sponsorship opportunities are unique, since our Conference is virtual. For information on Sponsorship Opportunities, reach out to contactus@pscpartners.org, or call 303-771-5227.
CLICK HERE for more information about Corporate and Community sponsorships.
---
CONFERENCE Q & A
CLICK HERE for a list of FREQUENTLY ASKED QUESTIONS
CLICK HERE for Conference Policy Information
---
VIRTUAL POSTER PRESENTATION
PSC Partners invited researchers and clinicians to submit abstracts for virtual poster presentation at the PSC Partners Annual Conference with the launch of the PSC Partners International Collaborative Research Network (ICRNetwork).
These posters provide an opportunity to share exciting research directions and updates with the PSC patient and caregiver community and also with other researchers and clinicians focused on PSC. In addition, showcasing ongoing or completed projects can provide new connections and opportunities to meet new collaborators and potential funders.
Posters will be featured on our online Conference platform. Additionally, a question and answer period will be available during designated times.
---
STAY CONNECTED
Check out the many ways our community can stay connected and increase PSC knowledge over the upcoming year: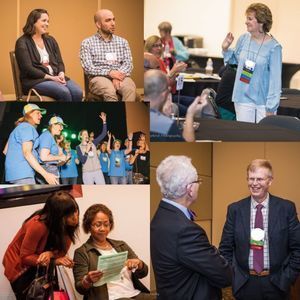 ZoomRooms: We offer opportunities for peer-to-peer connections in our virtual, small group ZoomRooms. Whether you are an adult PSC patient, teen PSC patient, parent, spouse, other caregiver, or are carrying on the spirit for a PSC patient who has passed, these gatherings are a great opportunity to chat with others who truly understand. To register for an upcoming ZoomRoom, visit the EVENTS page on our website. 
ROADMAP Initiative Webinars: The ROADMAP Initiative webinar series is an ongoing virtual event conducted by PSC Partners. Every ROADMAP Initiative webinar is new, exciting, and tailored to meet the PSC community's needs. We encourage folks in the PSC community to review recordings of past webinars and register for upcoming offerings. We need your voices to further research to enable us to find treatments and a cure for PSC.
Mentor Program: The PSC Partners Mentor Program provides much-needed support for people whose lives are impacted by PSC. If you have attended at least one PSC Partners Conference and want to give back to the community by becoming a mentor, you can request to be a mentor and make a big difference in someone's life. If you are in need of support from a community member who truly understands, ask to be matched with a mentor. Fill out the form on the Mentor Program page on our website. 
Social Media: Via our social media pages, we provide information, support, event listings, conference updates, and more. Follow us on the PSC Partners Facebook page and our open and closed support groups, Instagram, Twitter, YouTube, and LinkedIn to keep up with everything going on at PSC Partners and within the PSC and rare disease communities.
Email List: Make sure PSC Partners has your most up-to-date contact information to ensure you receive our email blasts. We do not over-communicate, and we never sell or loan our lists. So, your information is safe with us! Sign up or update your info. here.
---
CONFERENCE UPDATES
Sign Up: Please join our mailing list to receive the latest announcements and updates about the 2022 Annual Conference and other important PSC Partners news.
---
PICK UP AN EXCLUSIVE 2022 CONFERENCE MUG, & REMIND FOLKS, "YOU'RE ON MUTE!"
Visit our online shop to grab a limited edition coffee mug just in time for the 2022 Annual PSC Partners Conference. Not only will you look super cool while you're enjoying a beverage during this virtual event, it also doubles as a reminder to folks, "YOU'RE ON MUTE!" The mug comes in several colors, and two sizes. The Conference logo is also on a water bottle. This is an awareness-raiser, not a fundraiser. 
Delivery times can be slow. Order soon, if you want the mug before the Conference.
Questions? Email us at contactus@pscpartners.org, or call us at (303) 771-5227.

Complete your profile and join PSC Partners Seeking a Cure in advancing PSC research towards a cure.