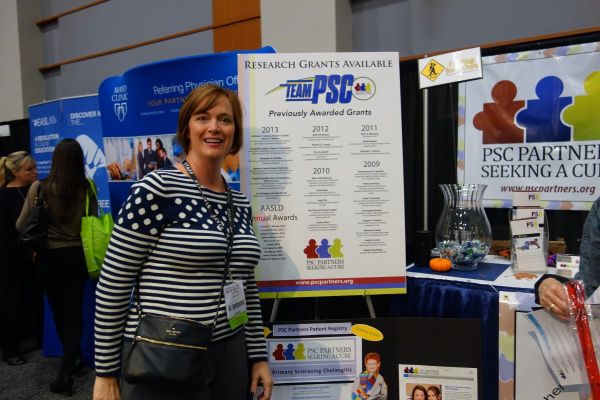 Recently, an article entitled "Common Asthma Drug Could Prevent Liver Disease and Reduce the Need for Liver Transplants" caught our attention. This study was featured in the Baylor Hospital newsletter. Heather Francis, PhD, Principal Investigator of this study and her team have actively been working on PSC and were awarded a two-year PSC Partners research grant in 2013 for their study entitled, "Bile acid-regulation of mast cells in models of primary sclerosing cholangitis and cholangiocarcinoma."
Funded by PSC Partners, this earlier study received the 2015 AASLD President's Award last year. We asked Dr. Heather Francis whether the current study was connected to her previous one. She wrote, "This work is absolutely part of the work that we generated using some of the funds from PSC Partners. We will be at AASLD – we have a poster of distinction on Friday on mast cell-deficient mice that we re-injected with mast cells and induced fibrosis. In that study we generated a double knockout mouse model using a PSC relevant mouse – we knocked out the histamine axis & reduced damage & fibrosis. Both of these studies are also partly supported by PSC Partners!"
We followed up with a few questions to Dr. Francis regarding her experience as a PSC Partners research grant recipient:
What does it mean to get a PSC Partners grant for you?
One of the biggest impacts from receiving the grant from PSC Partners for me has been getting to have a personal connection with patients and families who have to live with the burden of PSC or have had family or friends that have lost their lives to PSC. I've felt so lucky to be able to infiltrate even if just from the outside into the personal aspect of this disease & it really changes the way I've approached my research endeavors. There is a greater understanding of patient care & the lack of solid treatments that you cannot get by reading scientific journals or getting another funded grant. I think you can only really understand these aspects by listening to those who experience the disease themselves. For me, this has been the most meaningful aspect of this award & I will always, always be humbled in knowing that the funds come from the people I desperately want to help.
Is it any different to receive funds from the patients themselves?
It is incredibly different to receive funding from a patient-driven organization when compared to a federally funded institution or an academically funded grant in part because you feel a part of something bigger than just the money itself. There is a personal connection that is tied to each dollar that has found its way into an account & every time we draw from it or we say "use the PSC funds" for a purchase, you remember that these dollars came from people whose lives have been directly impacted by the very disease you are trying to figure out. I am so impressed with the outreach that the PSC Partners continues to produce & I am certain that this organization is helping so many that would otherwise not know where to turn.
Has the original seed grant led to bigger research?
I am so proud to say YES to this question! Monies from the PSC Partners was used to generate critical preliminary data and we were able to obtain both VA federal funding and an NIH RO1 grant. We received both of these awards in 2016 and absolutely it would not have been possible without the money from the PSC Partners. Those funds have been crucial to us to gain better insight into immature projects that are developing into pieces of very important data and we are still going. We received the funding from PSC Partners in 2013 and we are STILL using it today! We have lots of exciting projects in the making and there is one study that we are so excited about that will shed light on both PSC and cholangiocarcinoma – hoping to have that out early in 2017. 
Every day, PSC Partners works tirelessly to find better treatments and a cure for primary sclerosing cholangitis. Thanks to the generosity of our community, we are able to encourage researchers like Dr. Francis to learn more about PSC and to find potential ways to eradicate this devastating disease. For more information about other research grants funded by PSC Partners, click here.