PSC Awareness Day - October 29th -- Check out resources below.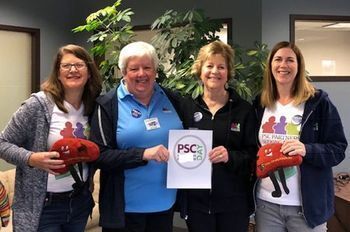 This year's theme is PSC and Quality of Life! Help us increase awareness of primary sclerosing cholangitis (PSC) by continually educating people about this rare disease. Below are videos, fact slides, and more for you to share!
WATCH AND SHARE WEBINAR: On Global PSC Awareness Day, international experts will participate in a roundtable discussion about PSC and Quality of Life. A recording of that discussion will be on our social media pages, this webpage, and other social media pages of those participating in this year's Awareness Day, including the European Liver Patients' Association (ELPA).
SEND AN AWARENESS DAY GREETING! Film yourself on your phone saying, "Happy Global PSC Awareness Day from (state) (country)." You can remain anonymous or include your name. Send your video to contactus@pscpartners.org, and we will pass it along to the European Liver Patients' Association to include in a compilation video. For inspiration, check out last year's compilation video.
HIT THE SHARE BUTTON ON SOCIAL MEDIA: On Awareness Day, share PSC information on social media. An easy way to do that is to hit the share button when PSC Partners and other international PSC groups share fact graphics and videos throughout the day.
SNAP A SELFIE IN PSC PARTNERS GEAR: Wear your PSC Partners gear, or clothing from another PSC organization, on October 29th. Snap a selfie and post it on social media. Remember to tag PSC Partners and use #PSCaware.
Share these graphics created by the European Liver Patients' Association (ELPA) for 2022 Global PSC Awareness Day. There are additional shareable fact graphics below. These will be updated soon for this year's event.
FIVE EXPERTS FROM AROUND THE WORLD DISCUSS VARIOUS UNMET NEEDS IN PSC
Check out the video of the 2021 messages from around the globe.
Share These Fact Graphics on Social Media
Here are some other ways you can get involved in Global PSC Awareness Day:
Snap and post a selfie wearing PSC and/or PSC Partners-branded clothing. (If you don't have logo gear, make a sign and hold it up in your selfie. Anything works!) When you post, use #PSCAware and #RareLiverDisease
Share one or more of the educational videos below.
Share one or more of our brochures. From Living with PSC to Pediatrics to the PSC Partners Registry, we have lots of great, downloadable documents.
View and Share the Global PSC Awareness Day series of webinars recorded by experts from around the world!
Last year, PSC experts from around the world have gathered to speak about various topics of interest to the global PSC community. You can view these webinars in the recording below. Click here to see a full agenda. A new set of webinar recordings will be available this year. Stay tuned for more information.
We are excited to be part of this global day of awareness with all the groups listed below. We hope you are, too!
---
EDUCATE YOURSELF and OTHERS
Watch and Share The Webinar Series Presented by PSC Experts from Around the World for Global PSC Awareness Day 2021. A 2022 version will premier on Awareness Day 2022.
(Use this time-stamped agenda to navigate webinar, or watch the entire presentation.)
---
PSC Awareness Day, October 29: In October every year, PSC Partners Seeking a Cure, along with other international groups with whom we collaborate, host PSC Awareness Day. On the day, and the week leading up to it, facts, videos, and stories are posted on social media and included in our various outreach efforts. We ask our community to help us spread the word during that time, but PSC Awareness can (and should) occur all year long. Please help us ensure everyone is #PSCaware by educating people about primary sclerosing cholangitis (PSC).
Visit our online store to find some snazzy PSC Partners gear. (This is an awareness-raiser, not a fundraiser.) Affordably priced PSC Partners gear is also available at the Annual PSC Partners Conference shop.
Below are some tools to help you spread the word.
---
View and Share These Videos
On a recent PSC Awareness Day, several folks from the PSC community answered the question,
"What do you want people to know about primary sclerosing cholangitis (PSC)?"
Post Video of Yourself: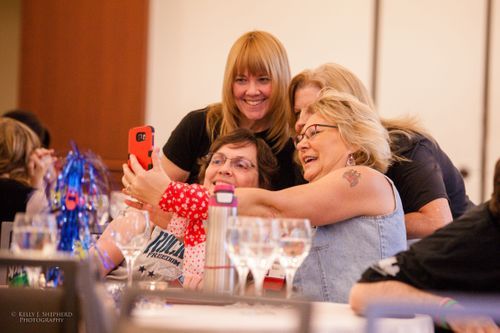 Spread awareness about PSC Partners by posting a short video of yourself on social media answering the question, "What is one thing you wish people knew about PSC?" Videos should be posted on October 29. Be sure to tag PSC Partners and use #PSCaware.
Wear PSC Partners Gear:
Wear PSC Partners gear. Post a photo of yourself, tag PSC Partners, and include #PSCaware.
PSC Awareness Day Tiles To Share
---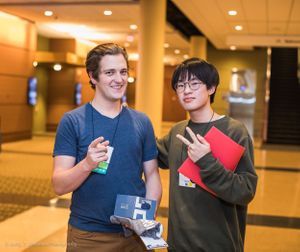 Basic Facts
Primary Sclerosing Cholangitis (PSC) is a chronic bile duct disease that damages the bile ducts inside and outside the liver. Bile ducts carry bile from the liver to the intestines. With PSC, bile ducts are inflamed, and the inflammation leads to scarring and narrowing of the affected ducts. Eventually, blockages may occur. As the scarring blocks more and more ducts, bile becomes trapped in the liver. This damages the liver and can result in fibrosis and cirrhosis of the liver and liver failure.
PSC is a rare disease that affects people of all ages, genders, races, and backgrounds.
PSC is not associated with alcohol or drug use.
Many PSC patients are asymptomatic at the time of diagnosis.
It is estimated that there are 30,000-50,000 PSC patients in the United States, alone. Globally, one is 10,000 people have PSC.
PSC is often found in people with inflammatory bowel disease (IBD), most often ulcerative colitis (UC) and sometimes Crohn's disease. Over 75 percent of PSC patients have ulcerative colitis.
PSC is also associated with other autoimmune diseases.
Patients may eventually require a liver transplant. Unfortunately, PSC returns in about 30% of transplanted livers.
Currently, there are few treatments and no cure for PSC, but there is hope. To date, PSC Partners Seeking a Cure has funded more than $6 million in research. 
Together, we are creating a world where a PSC diagnosis comes with a cure!

Educate Yourself and Others About Primary Sclerosing Cholangitis (PSC)
Please share these videos to help bring awareness and understanding of this devastating disease.  Whether you are a PSCer, friend, family member or health professional, you can help us spread the word!
---
Share Information with Your Network
There are many ways to increase awareness for PSC. Help others become #PSCaware by learning how you can spread the word.
FACTS ABOUT PSC TO SHARE ON SOCIAL MEDIA
READ STORIES FROM PATIENTS AND CAREGIVERS
---
Complete your profile and join PSC Partners Seeking a Cure in advancing PSC research towards a cure. Find information about clinical trials.