Our brochures provide clear information about:
Living with PSC
Pediatric PSC
The PSC Partners Patient Registry
Past PSC Partners Research Grant Recipients
The New ICD-10-CM Code 
Patients find it helpful to take this information to their physicians for discussion. Many of our members request brochures for their physicians to distribute to their PSC patients.
To request printed copies of our brochures free of charge, please use the form at the bottom of this page. (Please allow 1-2 weeks for delivery.) French language brochures generously provided by  PSC Partners Seeking a Cure Canada.
These brochures are in PDF format, and will require Adobe Acrobat Reader to be installed on your computer in order to read them.
---
---
---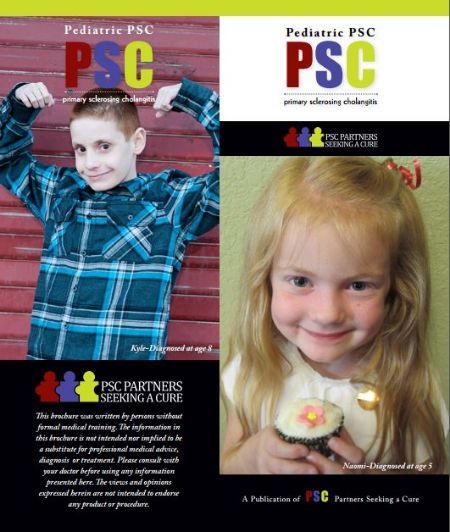 ---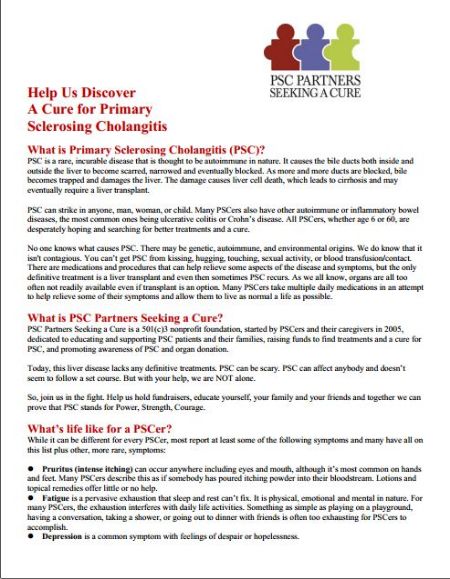 PSC Information and Fundraising Flyer
For those who want to reach out to supporters through personal fundraising activities, this flyer has helpful information about PSC and why we need to find a cure. (Available as a download only)
---
PSC Partners Research Grant Recipients

Every year, on the recommendation of the Scientific/Medical Advisory Committee (SMAC), the PSC Partners' Board of Directors reviews all applications and supports the most promising PSC-related studies. In 2020, we announced the funding of seven international studies, plus three more in conjunction with our affiliate PSC Partners Canada. This brings our funding total to more than $4 million.
Click here to download a copy of our brochure listing all past PSC Partners Research Grant Recipients.
---
ICD-10 Code Information for Medical Providers
Inform your medical provider about the new ICD-10-CM Code for PSC. Click the link below for a pdf of a postcard to share with your doctor, or request that a postcard be mailed to you.
K83.01 Info. for Medical Providers (download)
---
Brochure Request Form
Please use the form below to place a brochure request:
* Denotes Required Field
Complete your profile and join PSC Partners Seeking a Cure in advancing PSC research towards a cure.