This event has concluded for 2022.
HUGE THANK YOU TO EVERYONE WHO PARTICIATED AND/OR DONATED!
Contributions are always accepted via our main donation page.
Check out other ways to support PSC Partners on our Ways to Give page.
---
---
You can also scan this QR Code to go directly to the signup/donation page for WALK83.01. 
This fundraiser is ongoing. You can join and/or donate anytime through September 30, 2022. Thank you!
Who is ready for a challenge?
We hope you'll join the PSC Partners staff and board of directors on our mission to raise PSC awareness and funds by walking 83.01 miles (133.5 km) between July 9-September 30, 2022.
---

Canadians can participate in this FUN fundraiser by donating through a Canadian link located on the WALK83.01 page linked HERE and in the button at the top of this page. Via that link, you will be able to offer Canadian tax receipts for your WALK83.01 sponsors, and funds raised will support PSC research.
WE ENCOURAGE PARTICIPATION BY EVERYONE IN OUR U.S. AND INTERNATIONAL PSC COMMUNITY. 
Together, we are creating a world where a PSC diagnosis comes with a cure!
---
LET'S SURPASS LAST YEAR'S GOAL! 
Last year, we raised over $90,000, which covers three years of a research project. 
In year two of this fundraiser, we are raising the goal to $120,000, which will support:
Two Research Grants for
Two Years
Sounds like a pretty good goal for year two in 2022, don't you think?
---
Why did we choose 83.01 as a goal? Because the unique disease code for primary sclerosing cholangitis (PSC) is K83.01. (Get more information about the PSC ICD-10-CM code here.)
For this fundraising event, walk as an individual or gather a team, wear PSC Partners gear (Link to Shop Here), and raise funds for PSC research! Donations can be made per mile/km or given in one lump sum. $83.01 is the suggested donation, but feel free to raise more or donate whatever amount feels comfortable to you.
If you don't want to walk, or are unable to, you can complete the event in a different way.
You may choose to:
Paddle
Pedal
Rollerblade
Swim
Run
Choose another way of completing this task, or make a direct contribution
Be creative and complete this unique fundraiser in a way that is fun and doable for you!
No matter how you decide to participate, your contribution will help us reach the goal of funding two research projects for two years! 
Watch our newsletter (Sign Up Here) and social media pages for updates.
---
If you are unable to participate but would still like to financially support the WALK83.01 effort, CLICK HERE or the button at the top of this page.
---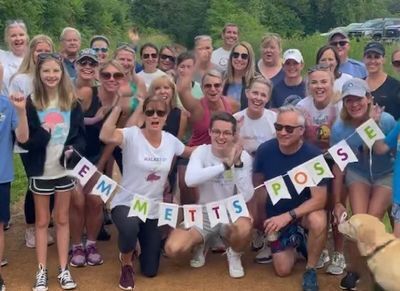 HERE ARE A FEW IDEAS TO MAKE IT FUN!
Gather your friends together for a kick-off event.
Feel free to be a team of one. Pop in your airpods, and listen to a book or podcast while you walk. May we suggest our Living with PSC podcast?
If you decide to form a team, come up with a fun team name! You may even want to create matching t-shirts. Send us a photo of your team with a note giving us permission to share the photo of social media and via our other outreach channels.
Pick a designated time and place each week to walk, and encourage your friends/teammates to meet you there.
Post your progress on social media. There are lots of cute ways to visually indicate how close you are to reaching 83.01 miles. (See photos below for a couple of cute examples from last year.) 
Use a mobile app like Map My Walk to keep track of your progress and keep in touch with others on your team.
Do you exercise on a Peloton bike or another at-home system that has the ability to connect virtually? Form a team and ride virtually with others around the country and the world.
Use WhatsApp to include international friends on your team. Walk with them virtually while catching up.
Let us know how you plan to make the walk fun. We'll share your clever, fun, creative ideas with others. Email us at contactus@pscpartners.org.
HELP US RAISE AWARENESS!
Visit the PSC Partners Online Shop HERE -- Wear PSC Partners gear! In addition to our usual branded clothing, we have created a special WALK83.01 shirt.
Download Printable Mascot Here (Horizontal) -- Bili is the Mascot of WALK83.01. Take Bili on this adventure with you, and post selfies. Use #PSCWALK8301 and #PSCPartners. Download the Vertical Mascot Version Here.
Complete your profile and join PSC Partners Seeking a Cure in advancing PSC research towards a cure. Find information about clinical trials.