July 1 - September 30, 2021
REGISTRATION IS ONGOING. REGISTER and DONATE ANYTIME.
Who is ready for a challenge?
Our world is opening up, again, which has all of us at PSC Partners excited! We hope you'll join the PSC Partners staff and board of directors on our mission to raise PSC awareness and funds by walking 83.01 miles (133.5 km) between July 1-September 30, 2021.
---

Canadians can participate in this FUN fundraiser by clicking the button below. Via that link, you will be able to offer Canadian tax receipts for your WALK83.01 sponsors, and funds raised will support PSC research.
When you're on the page, follow the instructions to set up your own "Giving Group" for your personal fundraising.
---
We surpassed our $60,000 goal for our WALK83.01 for PSC. Amazing! That will fund an entire PSC Partners two-year research project that will be selected by the community. The goal has been raised to $90,000. Let's fund another full year of research. Together, we are creating a world where a PSC diagnosis comes with a cure!
---
Why did we choose 83.01 as a goal? Because the unique disease code for primary sclerosing cholangitis (PSC) is K83.01. (Get more information about the PSC ICD-10-CM code here.)
For this fundraising event, walk as an individual or gather a team, wear PSC Partners gear (Link to Shop Here), and raise funds for PSC research! Donations can be made per mile/km or given in one lump sum. $83.01 is the suggested donation, but feel free to raise more or donate whatever amount feels comfortable to you.
If you don't want to walk, or are unable to, you can complete the event in a different way.
You may choose to:
Paddle
Pedal
Rollerblade
Swim
Run
Or choose another form of exercise
If movement is difficult, how about:
Performing 83 random acts of kindness
Writing 83 postcards to family & friends
Crafting 83 friendship bracelets with your kids
Reaching out to 83 people in the PSC community
Asking someone (or a team of friends/family) to complete the 83.01 on your behalf
Be creative and complete this unique fundraiser in a way that is fun and doable for you!
Watch our newsletter (Sign Up Here) and social media pages for updates.
---
If you are unable to participate but would still like to financially support the WALK83.01 effort, click the button below. Thank you! 
---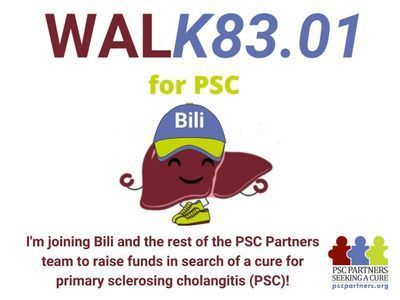 HELP US RAISE AWARENESS!
Visit the PSC Partners Online Shop HERE -- Wear PSC Partners gear! In addition to our usual branded clothing, we have created a special WALK83.01 shirt.
Download Printable Mascot Here (Horizontal) -- Bili is the Mascot of WALK83.01. Take Bili on this adventure with you, and post selfies. Use #PSCWALK8301 and #PSCPartners. Download the Vertical Mascot Version Here.
Complete your profile and join PSC Partners Seeking a Cure in advancing PSC research towards a cure.