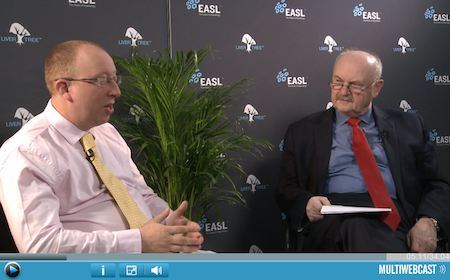 In this videotaped conversation, Dr. Michael Manns (Medical School of Hannover, Germany​) ​and Dr. Gideon Hirschfield (University of Birmingham, UK)​ discuss what they perceived to be the best presentations in autoimmune hepatitis (AIH)​, primary biliary cholangitis (​PBC)​, primary sclerosing cholangitis (​PSC)​ and secondary sclerosing cholangitis (SSC, ​the newcomer on the block) at the International Liver Congress (ILC) in Amsterdam last month. In this conversation, Dr. Manns describes PSC as "the most exciting disease, the black box of hepatology" because PSC is currently engendering the most interest in the field. They noted that PSC was the subject of the second opening session of this large congress attended by 10,000+ hepatologists, and thousands filled the hall to attend the session.
Following are the key points from the part of the conversation about PSC:
The biggest take-away for these two PSC thought leaders, was that it is now clear that clinical trials for PSC CAN be conducted  even though clear endpoints have not yet been established. The success and failure of clinical trials for PSC have demonstrated that it is possible to conduct clinical trials that elucidate the disease.
Dr. Manns discussed the multi-center clinical trial conducted by Dr. Cyriel ​Ponsioen of the Netherlands comparing ERCP with balloon dilatation in dominant strictures. The team discovered that the two tests produced equal results in dominant strictures and that balloon dilatation resulted in less complications. He felt that balloon dilatation may be "the future" and may mean changing the treatment of PSC. Dr. Hirschfield commented that in Birmingham, they are experts in ERCP and liver transplant and that, the more experienced in endoscopy the hepatologist is, the less complications there will be. In centers such as Birmingham where they see a high volume of PSC patients, ERCPs are successfully used to treat dominant strictures.
They noted that, though the Simtuzumab trial had negative results for PSC, this study was extremely positive in that it provided much information: they collected data on patients who took Simtuzumab during two years, who had biopsies, and whose alkaline phosphatase and other markers were closely tracked. Out of this data, ​Dr. Christopher Bowlus was able to discover that the non-invasive ELF (Enhanced Liver Fibrosis) blood test was an effective marker for disease progression.
Finally, it is of interest to note, the recently recognized disease Secondary Sclerosing Cholangitis (SSC) which may appear after any organ transplant, requires a liver transplant and points to genetic predisposition. Dr. Hirschfield said that looking outside PSC, that is, at the different PSC phenotypes such as IgG4, SSC, AIH and IBD ​overlap, researchers can study the different pathways involved in PSC and may also elucidate the genetics of PSC.
You can listen to the entire conversation here:  http://livertree.easl.eu/easl/2017/international.liver.congress/182281/prof.michael.manns.and.doctor.gideon.hirschfield.best.of.autoimmune.and.html.