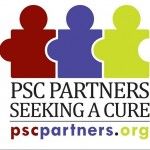 Every year, on the recommendation of the Scientific/Medical Advisory Committee and the Board of Directors, PSC Partners Seeking a Cure funds the most promising research projects in leading PSC institutions worldwide. We are excited to announce that in 2017, PSC Partners will award six grants and our Canadian affiliate will award one grant, for a total of 7 new research projects!  Following are the titles and authors for the projects that will receive funding this year:

A MULTICENTER COLLABORATION TO STUDY PSC IN CHILDREN 
Mark Deneau, MD, MS, Assistant Professor of Pediatrics, Division of Pediatric Gastroenterology, Hepatology and Nutrition, University of Utah, Primary Children's Hospital, Salt Lake City, UT
A GUT-LIVER CROSS-DISEASE MAP TO IDENTIFY CONCRETE GENE TARGETS FOR THERAPEUTIC INTERVENTION BY CHARACTERIZING EXPRESSIONAL CHANGES IN PSC AND UC
David Ellinghaus, PhD, Institute of Clinical Molecular Biology (IKMB), Kiel University, Germany
THE ROLE OF HEPATIC XBP1 IN CHOLESTATIC LIVER INJURY
Richard M. Green, MD, Professor of Medicine, Division of Gastroenterology and Hepatology, Northwestern University Feinberg School of Medicine
APICAL AND BASOLATERAL EXOSOME SIGNALING IN NORMAL AND PSC CHOLANGIOCYTES 
David J. Katzmann, PhD, Biochemistry and Molecular Biology, Mayo Clinic, Rochester, MN
DISSECTING THE GENOMIC VARIANTS OF PSC OUTCOMES 
Konstantinos Lazaridis, MD, Consultant Gastroenterology and Hepatology, Professor of Medicine, Mayo Clinic College of Medicine
Professor Tom Hemming Karlsen, MD Department of Transplantation Medicine, Division of Surgery, Inflammatory Medicine and Transplantation Oslo University Hospital Rikshospitalet
EXPLORING THE PSC MATRISOME: DISCOVERY OF SERUM BIOMARKERS FOR THE STRATIFICATION AND CLASSIFICATION OF PATIENTS WITH PRIMARY SCLEROSING CHOLANGITIS
Massimo Pinzani, MD, PhD, FRCP, Professor of Medicine and Director of the University College London (UCL), Institute of Liver and Digestive Health (ILDH), Sheila Sherlock Chair of Hepatology, London, UK
INTEGRIN AVB6 AS A THERAPEUTIC TARGET FOR PRIMARY SCLEROSING CHOLANGITIS-ASSOCIATED CHOLANGIOCARCINOMA 
Yury V. Popov, MD, PhD, Director, Liver Fibrosis Research, Assistant Professor of Medicine, Division of Gastroenterology and Hepatology, Beth Israel Deaconess Medical Center, Harvard Medical School, Boston, MA
Stay tuned for more information including the lay summaries for each of these studies.  We are excited about this new research and look forward to sharing more with you! As always, we would love to hear your thoughts regarding PSC research.  What areas of research do you think are the most promising?  What would you like to see researchers focusing on?  Please add your ideas in the comments section below.
Best regards,
Ricky Safer