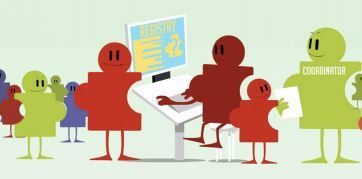 Primary sclerosing cholangitis (PSC) is a rare liver disease affecting the bile ducts inside and outside the liver. As with most rare diseases, it is difficult to conduct large clinical trials that support the development of effective treatments for PSC.
In 2014, PSC Partners Seeking a Cure collaborated with the NIH Office of Rare Disease Research to create the international PSC Partners Patient Registry. This registry brings information on PSC and those affected by the disease into a single place, and enables academic medical centers and pharmaceutical companies to easily locate patients who opt in to be part of the patient-driven registry. 
The PSC Partners Patient Registry collects data including information on diagnosis, family history, quality of life, medications, surgeries, overlapping diseases, and patient demographics. Our registry is designed to be a resource for researchers, assists in finding appropriate patients for clinical trials, facilitates drug safety monitoring for new drugs, and allows for patient participation at each level of research.
This spring, we hit an important milestone: the PSC Partners Patient Registry reached more than 1,000 patients. We hope that bringing together more PSC patients will speed up research by enabling easier recruitment of participants for clinical trials. This is critically important, as the disease currently has no effective treatments to slow down disease progression.
An unexpected result of enrolling more than 1,000 patients in the registry is that some of those who tried to enroll learned — after answering a series of questions about their diagnosis and symptoms — that they do not actually have PSC. Instead, they have primary biliary cholangitis (PBC), a different disease that also affects the bile ducts. This misdiagnosis is troubling, given that PBC patients could be benefitting from treatments that are effective in slowing the progression of PBC – and they may be missing out on these treatments due to misdiagnosis.
To help clear up any misconceptions, we've been working with PSC Support, a nonprofit patient organization in the UK, on an educational campaign to promote a better understanding and more accurate diagnosis of these two rare liver diseases. Given the similarity of their names, PSC and PBC have been confused in medical publications, among regulatory bodies, and in medical practice — as well as in individual patient diagnoses, as seen in our patient registry.
Without an accurate diagnosis, patients with PBC may miss out on important treatments, and PSC patients, who, unlike PBC patients, are at an increased risk for colon and bile duct cancers, may not get important cancer screening.
A clear understanding of the two diseases will likely decrease the chances for misdiagnosis and our well-populated registry of over 1,000 PSC patients can serve to bring us a step closer to finding much-needed therapies for PSC. 
To learn more about the PSC Partners Patient Registry, or to enroll, visit http://pscpartners.org/patient-registry/.