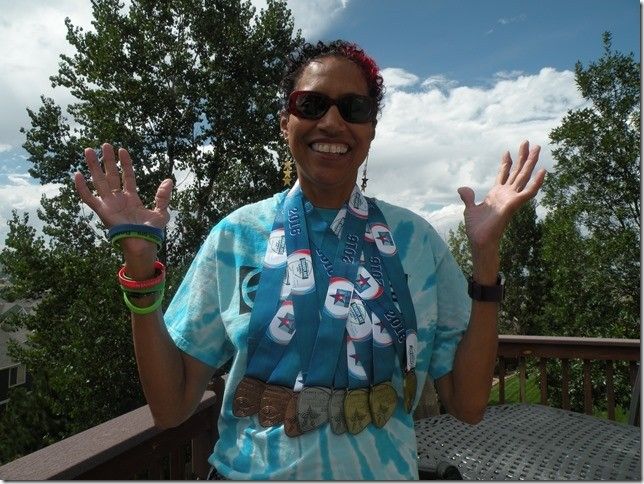 For this month's blog, we would like to introduce you to Yvette Matthews. Yvette was diagnosed with PSC in 2001, and received a liver transplant in 2013. Prior to her diagnosis, Yvette was a college athlete and a semi-pro beach volleyball player. So, understandably, her PSC diagnosis came as a complete shock, like it does for many in our community. Yvette's health eventually began to decline, and, after many years of living with the complications of PSC, she received a transplant. Within a year after her surgery, Yvette was slowly able to regain the strength and spirit to train once more for competition. She successfully competed in her first Transplant Games in 2014. She has been to several Transplant Games since, and is now competing in the National Senior Games as well.  Yvette has been an active volunteer for PSC Partners and has attended several of our conferences over the years, always bringing her vivacious spirit and energy to the event. Yvette also has been a key advocate for organ donation.
We were excited to chat with her on the phone last week and talk to her about her PSC diagnosis, competition, liver transplants, and more.
Q:  Describe your life before your diagnosis with PSC?
A:  I was really healthy and working out. I played little league softball and enjoyed riding my bike. I was a college athlete at UMBC where I competed in basketball, hockey, and lacrosse. I was a semi-pro beach volleyball player.
Q: Tell us about your diagnosis and experience with PSC.
A: I was diagnosed in 2001 at a routine physical. My liver enzymes came back elevated. I felt fine, and I had no symptoms, so I literally ignored it. I was 100% sure the doctors were wrong. 
After several years, I started to feel like I was slowing down. The fatigue continued to increase, and I started to develop fluid in my abdomen, which needed to be drained every week. I was just super tired. I didn't realize until after my transplant how tired I was.
Q:  After your transplant, did you ever think you would compete again?
A:  No. I thought I would get my transplant, be alive, and that would be about it. I assumed that was the way it was. A few months after my transplant, I attended my niece's wedding in Baltimore. That's when I started believing that I could do stuff. That event pulled me out of it, and I started working out, again. I don't remember how I found out about the National Transplant Games, but I started going to meetings and to train for it. In the summer of 2014, I competed in my first National Transplant Games and won nine medals. I was so happy, excited, and motivated. Since then, I have competed in three more National Transplant Games and one World Transplant Games.
Q: What does competing again mean for you?
A: Personally, getting back into competition makes me feel alive. It is something that has always been a part of me, and it was missing for a while. Being at these games and getting to meet everyone, from the competitors to the family members of donors, is so uplifting. It's almost like going to the (PSC Partners) conferences.
Q: How are you feeling today?
A: I feel pretty good. I get tired sometimes. I don't have the stamina that I used to, and sometimes I have to force myself to lie down, but, overall, I'm really feeling good.
Q: What is ahead for you?
A: I have qualified for the long jump in the National Senior Games this June in New Mexico, and I am competing in the World Transplant Games in Newcastle, England this fall.
Thanks for sharing your remarkable journey with us, Yvette. We wish you the best of luck in your upcoming competitions!