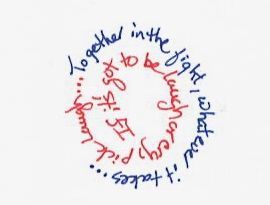 Welcome to Sandi's Circle. If you need a pick-me-up, keep an eye on Sandi's Circle. 
If you have a brief, inspirational, positive message that you think would bring others joy or comfort, send it to contactus@pscpartners.org. Put Sandi's Circle in the subject line.
We are unable to put every submission in Sandi's Circle, but we will include as many as possible.
"Diagnosis of a rare disease which most people haven't heard of is downright terrifying. Like Thoroughly Modern Millie's Mrs. Meers is forever saying, 'Sad to be all alone in the world.' And it is...only, we're not. Let me emphasize that. We are NOT all alone in the world, and there's no place in the universe that is more proof of that than the PSC Partners conference..." -Sandi Pearlman

Once, Sandi was talking with a counselor, and she recalled this exchange:

"(The counselor) asked me what was the best thing that ever happened to me. I responded that it probably hadn't happened, yet. She frowned and asked me what was the worst thing that ever happened to me. I said, well, it probably hasn't happened, yet. Her response, I swear, was that she thinks I need therapy.

She couldn't understand why I wouldn't say PSC was the worst thing that ever happened to me. But the truth is, I find my answer hopeful that there's more to come, that PSC isn't the defining characteristic of my life.

Don't get me wrong. PSC sucks, but PSC also gives us an edge. We know life is precious. It's ours for this day, and hopefully, for the next, and we're not going to waste it." -Sandi Pearlman
About Sandi
Folks who have been in the PSC Partners community remember Sandi Pearlman as a bright, positive light. Her insight, humor, and supportive presence were a real gift to those who knew her. In this space, we will not only share some of Sandi's pearls, but we'll also share inspirational tidbits from others in the PSC community. 
Sandi's father Mike said that he once asked his usually reserved daughter why she was so open with people in the PSC community. He says she believed that, "Those with PSC and their caregivers (friends and family) needed to share with, and gain support from, one another. By being so open herself, she hoped this would encourage others to do the same." 
Sandi's family compiled her writings into a book, Sandi's Journey, which is available via AmazonSmile. PSC Partners also has a few copies available for $20 each including shipping. To purchase, email contactus@pscpartners.org
Complete your profile and join PSC Partners Seeking a Cure in advancing PSC research towards a cure.