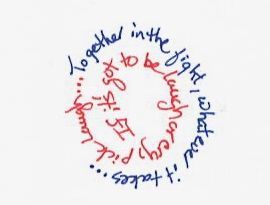 Welcome to Sandi's Circle. If you need a pick-me-up, keep an eye on Sandi's Circle. 
If you have a brief, inspirational, positive message that you think would bring others joy or comfort, send it to contactus@pscpartners.org. Put Sandi's Circle in the subject line.
We are unable to put every submission in Sandi's Circle, but we will include as many as possible.
About Sandi
Folks who have been in the PSC Partners community remember Sandi Pearlman as a bright, positive light. Her insight, humor, and supportive presence were a real gift to those who knew her. In this space, we will not only share some of Sandi's pearls, but we'll also share inspirational tidbits from others in the PSC community. 
Sandi's father Mike said that he once asked his usually reserved daughter why she was so open with people in the PSC community. He says she believed that, "Those with PSC and their caregivers (friends and family) needed to share with, and gain support from, one another. By being so open herself, she hoped this would encourage others to do the same." 
Sandi's family compiled her writings into a book, Sandi's Journey, which is available via AmazonSmile. PSC Partners also has a few copies available for $20 each including shipping. To purchase, email contactus@pscpartners.org
Complete your profile and join PSC Partners Seeking a Cure in advancing PSC research towards a cure.