REACHING NEW HEIGHTS AND EXPANDING OUR HORIZONS
With the support of our committed community of patients, caregivers, researchers, medical providers, and industry supporters, PSC Partners reached new heights in 2022.
PSC Partners Seeking a Cure 2022 Accomplishments
PSC PATIENT REGISTRY: In 2022, the number of PSC patients in the Registry increased by 15%, bringing the current total to 2,330, and growing. The expanding, and increasingly diverse patient population within the Registry boosts data accuracy and improves clinical trial recruitment with the aim of accelerating  PSC research. Registry team members are working closely with patients and researchers to ensure information accuracy and access to information for clinicians, while safeguarding patient privacy. Click here for more information.
RESEARCH GRANTS: COVID-19 did not stop us from supporting PSC researchers conducting innovative PSC research. PSC Partners selected four research seed grants in 2022, bringing our funding total to date to nearly $6 million dedicated to PSC research. Click here to view PSC Partners-supported research projects.
ANNUAL CONFERENCE: After a two year hiatus caused by the COVID-19 pandemic, our annual conference was held virtually in 2022, with a record number of 550 registrants. So far, the recorded presentations have been viewed more than 1,000 times. The conference also included the official convening of our International Collaborative Research Network (ICRNetwork), which garnered the highest number of researchers and clinicians attending our annual conferences since 2015. In addition, we had 11 Peer Groups during the Annual Conference, each of which met twice for a total of 22 peer meetings.
EDUCATIONAL WEBINARS: Over the past 12 months, we conducted nine educational webinars that, thus far, have had an audience of 2,500. Among them, the most frequently viewed webinar in 2022 was PSC and IBD: What Everyone Wants to Know About Diet and Nutrition. View that recording and the other webinars focusing on various aspects of PSC here.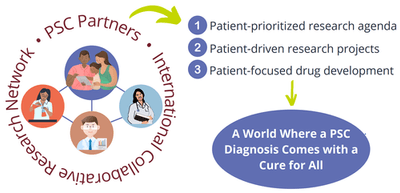 INTERNATIONAL COLLABORATIVE RESEARCH NETWORK: Inspired by the "Collaborative Network Model" defined by the Castleman Disease Collaborative Network (CDCN) in 2016, PSC Partners kicked off our own ICRNetwork at this year's annual conference. Through the ICRNetwork, we will champion the patient voice as we work with our partners around the world to:
o   integrate international databases
o   spark collaboration, and
o   facilitate patient-driven research projects and patient-focused drug development
STRATEGIC RESEARCH PLAN: The PSC Partners ICRNetwork is supporting the development of a Strategic Research Plan (SRP) with the goal of accelerating investigations into treatments and a cure for PSC. The first step has been to develop a patient-prioritized research agenda. This initiative is well on its way with hundreds of research questions already collected directly from PSC patients and caregivers through the 2021-2022 ROADMAP Initiative (Research Opportunities and Development Meetings to Accelerate Progress). Simultaneously, the PSC Partners team has been meeting with expert PSC researchers to capture the most important research questions across various areas of PSC research. With a SRP in place, PSC Partners will pursue specific patient-prioritized research projects over the next five years. Additionally, the PSC Partners Research Grant program will continue to support promising PSC research directions. With the implementation of the SRP, PSC Partners will expand efforts and capacity, and the ICRNetwork will drive forward key research projects prioritized by PSC patients. 
PATIENT-REPORTED OUTCOME MEASURE (PROM): Regulators and researchers have emphasized the absence of an effective PSC-specific PROM that scientifically captures how a person with PSC feels and functions. Collaborating with experts from North Carolina and Duke, the PROM project was launched this year to ensure that the PSC patient voice and symptom experience are heard loud and clear during clinical trials, as well as to satisfy regulatory requirements. As the first effort in this initiative, PSC Partners hosted two patient focus groups to discuss tools to best capture information about PSC symptoms.
WORLDWIDE INTEGRATION OF NATURAL HISTORY DATABASES (WIND): This year, PSC Partners unveiled WIND, an ambitious project inspired by the call of our community to identify new treatment options for PSC. WIND aims to rigorously collect clinical and patient-reported data on 2000 PSC patients over five years from multiple research sites and multiple countries. This data will be collected according to a uniform research plan, based on standard of care for PSC, and will be joined into a central database enabling use by PSC Partners and the broader, global PSC research community.  A unique aspect of WIND is that data will be collected and audited as though WIND were a clinical trial - meaning complying with the rules of regulatory agencies such as the FDA - with the intention that the data can be submitted with applications for future drug approvals to demonstrate the course of PSC with no effective treatments. The launch of this five-year project is funded completely by generous PSC community members.
EXPANDED DEI EFFORTS: Over the past year, we initiated our Embracing Diversity in PSC initiative by developing our PSC Partners Statement on Diversity, Equity, and Inclusion, and launching a DEI Working Group. So far, we have conducted a DEI webinar, the first in a series, Embracing Diversity in PSC, which gathered 11 panelists and numerous attendees from throughout the PSC community to explore ways to identify and mitigate health inequalities in PSC. Additionally, we have added a new category to our peer-to-peer ZoomRoom support groups, Celebrating Diversity in PSC. This initiative provides us with a powerful tool for expanding our reach to include those we couldn't reach before. The first virtual gathering of this group is January 11, 2023, and everyone in the PSC community who has felt underrepresented based on race, ethnicity, gender, or other factors is welcome and encouraged to attend.
VIRTUAL PEER SUPPORT GROUPS: We hosted 15 peer-to-peer support group sessions in virtual ZoomRooms and provided a safe place for patients with PSC, those with transplants, caregivers, parents, spouses, and those living with loss to interact, garner knowledge, and feel supported by others who truly understand. These virtual support groups attracted new people who made up 35% of the support group participants. 
PATIENT-PARTNERED PSC RESEARCH PROPOSAL RECEIVES CZI GRANT: A patient-partnered research proposal submitted by PSC Partners and a collaborative research team from Toronto was selected for significant support this year. Five such four-year research grants aimed at advancing the understanding of fundamental biology underlying rare inflammatory pediatric diseases were announced.
These projects uniquely have patients centered in the work, requiring a Patient Organization Primary Investigator (PI) to be eligible for the grant. The PSC project (Understanding the Cellular Ecosystem of Primary Sclerosing Cholangitis) will focus on clarifying the cellular mechanisms of pediatric PSC and identifying potential cellular targets for effective therapies and will be co-led by a representative of PSC Partners.
The PSC Partners representative joins a multi–disciplinary and cross-institution team from Toronto, ON, Canada, co-led by Coordinating PI Sonya MacParland, PhD (University Health Network), and with two additional PIs Gary Bader, PhD (University of Toronto), and Amanda Riccuito, MD, PhD (The Hospital for Sick Children). This project includes additional collaborators from UHN, SickKids, U of T, Toronto Centre for Liver Disease, Ajmera Transplant Centre, and PSC Partners Canada.
Click here to learn more about this project.
CZI RARE AS ONE NETWORK: In our third year as grantees of the Chan Zuckerberg Initiative Rare as One project, we continue to actively engage with the network by sharing knowledge, resources, and learnings with other grantees in the rare disease community.
Through this unique, valuable partnership, PSC Partners:
o   Formed strong, beneficial relationships with 49+ other Rare as One disease advocacy organizations
o   Enhanced effectiveness through numerous training and community learning opportunities, mentorships, and pro bono consultations with experts 
o   Received grants to increase our capacity, enhance our impact, and more
WALK83.01 FOR PSC: The second year of our WALK83.01 for PSC fundraiser was extremely successful. Together, we surpassed our goal of $120,000 by more than $15,500, for a total of $135,565.18. These funds will support two PSC research projects for two years plus more. Additionally, participation increased over last year, with each walker/runner/swimmer, etc. not only raising funds, but also increasing awareness for our rare disease, all while having fun.
GLOBAL PSC AWARENESS DAY: For the second year in a row, PSC Partners participated as part of an international group of PSC organizations coordinating a joint PSC Awareness Day. The collaboration was managed by the European Liver Patients Association (ELPA), and close to ten groups met often for several months to ensure a cohesive, impactful day. This year's theme was Unmet Needs in PSC. Participants shared social media posts, provided expert speakers for a collaborative, pre-recorded webinar, and more.   
EXPANDED ABILITY TO SERVE THE COMMUNITY: In an ongoing effort to better address the needs of our community, we expanded our small but mighty team this year by adding three new members, an Office Manager, Research Program Manager, and Development Director. They will help build capacity, increase efficiency, and expand our reach, all while utilizing just 10% of our annual revenue for administrative costs. Grant funds are utilized for much of this capacity building.
Additional Accomplishments Include:
REPRESENTATION: PSC Partners staff and members of our board of directors attended numerous virtual and in-person events and conferences, both domestically and internationally, over the past year to spread the word about PSC, increase our knowledge, and network with researchers, industry representatives, others from PSC patient groups, and more.
STRATEGIC PLANNING AND DEI WITH STUDENT CONSULTANTS: Through our CZI connections, we worked with a graduate student team to delve into strategic planning and DEI initiatives to help the staff and board of directors strengthen our impact in these areas. Through this collaboration, an entire graduate student class was educated about PSC.
FIRST WEBINAR FOCUSED ON CLINICAL TRIALS: PSC Partners conducted our first ever webinar that brought together industry representatives and researchers with patients and caregivers to talk about clinical trials. The PSC community was encouraged to join breakout rooms of their choosing to learn more about clinical trials of interest to them. Click here to view that webinar.
EXPANDED COMMUNICATIONS TO KEEP COMMUNITY INFORMED: In addition to our monthly newsletter The Duct, we expanded our outreach to include a monthly collection of newsworthy pieces of interest to the community. This collection of articles, referred to as RoundUp, can be sent via email or accessed on our social media pages. Additionally, we are excited to launch a scientific newsletter in January 2023. Click here to join the mailing list. When you join, you can select the areas of interest to you. Another effort to enhance our scientific outreach was the launch of Science Tuesdays, a social media project spotlighting various PSC Partners scientific endeavors.
WE LOOK FORWARD TO THE NEW HEIGHTS WE WILL REACH TOGETHER IN 2023!
Complete your profile and join PSC Partners Seeking a Cure in advancing PSC research towards a cure. Find information about clinical trials.