PSC Partners International Collaborative Research Network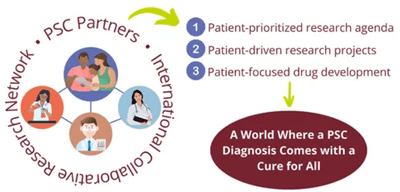 As part of our mission, PSC Partners works to empower a strong and unified community and accelerate research towards treatment and a cure for PSC. We are so appreciative of the many individuals and organizations centering the voice of those living with PSC. Now, with open lines of communication, we must focus our joint efforts towards bolstering research initiatives that will improve the lives of those living with and impacted by PSC.
PSC Partners believes in the power of the 'Collaborative Network Model' approach to rare disease research. This approach centers the patient voice in a formal structure of multi-stakeholder collaboration. In response to patient requests, PSC Partners launched the International Collaborative Research Network (ICRNetwork) at the Annual Conference in June 2022.
The ICRNetwork is best described as a vision for the future of PSC research -- where the voice and needs of those living with PSC are at the forefront and where all are important participants in the research process. As part of this vision, we at PSC Partners pledge to create an inclusive space where all voices are valued and heard.
While the ICRNetwork was conceived in June 2022, we have been working together as a PSC community for years. Participants in the PSC Partners Registry have contributed patient-reported data towards research studies. Community donations have provided funding to PSC researchers through the Grants Program. And PSC patients, caregivers, researchers, and industry have worked together to complete clinical trials for PSC. These are just a few of the many joint efforts that continue to make a difference for those living with PSC.
PSC Partners is excited to share that significant progress has been made to align the community-recommended research areas into a comprehensive Strategic Research Plan (SRP). A white paper detailing the outcomes of this community effort is underway, and more details will be available at the PSC Partners Conference in the fall of 2023. 
We at PSC Partners are so grateful to all who facilitated and participated in this very first project as a unified network. Yet, the work does not end here. Throughout 2023, we'll encourage feedback on the prioritization of ICRNetwork directions. PSC Partners will provide opportunities for all to connect at webinars and the 2023 Annual Conference. Then, PSC Partners will create opportunities for all to take part in patient-partnered research initiatives. Come the close of 2023, we hope the ICRNetwork will feel like a tangible home for us all to connect and work closely together.
Complete your profile and join PSC Partners Seeking a Cure in advancing PSC research towards a cure. Find information about clinical trials.