THIS EVENT HAS CONCLUDED.
Click HERE to view recordings of many of the 2023 PSC Partners Annual Conference sessions. These recordings are also available on our YouTube channel. If you'd like to see recordings from previous PSC Partners Annual Conferences, click HERE. A slideshow of photos from the 2023 Conference will be available soon.
We will also announce the date and location of our 2024 Conference soon. To stay up to date on the latest information, join our email list.
PSC PARTNERS ANNUAL PATIENT AND CAREGIVER CONFERENCE
Henderson, Nevada, USA
September 8-10, 2023
Our community is gathering once again in person after three years apart for three days of educational sessions presented by international PSC experts, peer-to-peer supportive gatherings, social engagements, and much more. Click HERE to view the agenda. This document is subject to change.
---
We Chose the Venue with Our Community in Mind
Green Valley Ranch in Henderson, Nevada, is a beautiful resort in a quiet desert location with excellent meeting facilities. Additionally, it is just a ten minute drive from the Las Vegas airport.
Two additional hotels close to the Conference venue are also available to allow a variety of pricing options for attendees.
The Las Vegas airport is well-serviced for air travel with more affordable domestic and international post-pandemic airfare rates than other cities we investigated.
The Conference location is rare disease friendly by allowing for all meals to be served outside.
While we will strongly recommend the wearing of masks at our Conference and hope all attendees will mask while indoors to protect immunocompromised people in our community, masks will not be required. Please see our FAQ page for more information about masking.
---
CONFERENCE HOTEL
The Conference will be held at Green Valley Ranch in Henderson, NV, 10 miles from the Las Vegas, NV, airport. The deadline has passed to reserve discounted accommodations in the Conference block of rooms at Green Valley Ranch and A-loft. A limited number of discounted rooms are available at Hampton Inn and Suites through August 24. 
Click these links to book your Conference hotel: 
Hampton Inn & Suites Las Vegas-Henderson
The last day to book a discounted room in our reserved Conference block for Green Valley Ranch and Aloft Henderson has passed. A limited number of rooms are still available at the Hampton Inn and Suites Henderson through 8/24/23.
Do I have to stay at one of the hotels listed above? You may stay wherever you choose. However, most PSC patients and caregivers prefer to stay at a recommended hotel in order to remain close to the activities and to further communicate and socialize with other attendees.
REGISTRATION IS NOW CLOSED.
For planning puposes, the registration fees are listed below:
Early Bird Registration (through 7/13/23): $295
Regular Registration (7/14/23 - 8/3/23): $325
Late Registration (8/4/23 - 8/13/23): $375
Non-Sponsor Industry/Corporate & Medical Provider Registration (through 8/13/23): $500
Corporate and Community Sponsors: $0 (number of registrations depends on sponsorship level)
ALL fees were due by 8/13/23.
---
SPONSORSHIP OPPORTUNITIES
There are numerous sponsorship opportunities for the 2023 Patient and Caregiver Conference in Henderson, Nevada.
Click HERE to download the Corporate Sponsorship Packet.
Click HERE to download the Community Sponsorship Packet.
For more information, contact our Development Director Elizabeth Szewczyk via email: fundraising@pscpartners.org.
---
CONFERENCE FAQs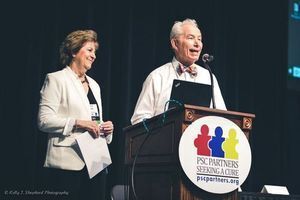 If this will be your first PSC Partners Conference, be sure to visit the Annual Conference Page to learn more about this annual event. You can also get answers to frequently asked questions by visiting our 2023 Conference FAQ page. 
Click here to read the 2023 PSC Partners Conference Policy Information.
SATURDAY EVENING GALA
What Happens at the Saturday Night Gala? This fun social event is always a highlight of the Conference. While costumes are not required, they are highly encouraged. Some folks choose to stay lowkey when choosing an outfit while others go all out! Your chosen attire is completely up to you, but plan to have a rip-roaring fun time! During this year's gala, we will be playing a trivia game and line dancing together. You can participate in any or all activities, or just pull up a chair and watch the fun!
CONFERENCE UPDATES
Sign Up: Please join our mailing list to receive the latest announcements and updates about the PSC Partners Annual Conference and other important PSC Partners news.
Questions and Information: If you need further information or have any questions, please email us at contactus@pscpartners.org, or call our office at (303) 771-5227. We are available 9 a.m.-5 p.m. MST.
WE'D LOVE TO HEAR FROM YOU!

WE CAN'T WAIT TO SEE YOU SEPTEMBER 8-10, 2023!
Complete your profile and join PSC Partners Seeking a Cure in advancing PSC research towards a cure. Find information about clinical trials.